Thought I'd start this, instead of keeping the discussion going in the SmartBall thread.
Miss Mercedes was kind enough to share some details on her roof rack, and some pics.
I've been looking for a while to see what sort of racks are/were available. I'm not interested in drilling into the cage for a permanent mount.
The two major players seem to be Thule and Yakima.
Thule says that:
Max Accaputo (Thule)
2 Oct 2020, 12:50 GMT-4
Hello,

After extensive testing by our engineers, this car is deemed a no fit due to the fact that there is no safe place to attach the rack to the roofline of the vehicle. Also During OE testing, the front of the Fortwo lifted off of the ground when more than 45lbs was put on the back, which causes us to deem the vehicle a no fit for rear of car racks as well.

Thank you for choosing Thule.
Max Accaputo
Thule America
Customer Service Rep.
Yakima, on the other hand, actually offered a rack system:
NAKED ROOF | QTOWER FIT ON SMART FORTWO 3DR 2008-2018 (USA)
This fit is listed for reference only. Some or all of the products for this fit are obsolete.
BASE RACK
TOWER: Q Towers (Set of Four)
FRONT CLIP: Q116 Clips
REAR CLIP: Q116 Clips
CROSSBAR: Small (48") RoundBar Pair (2 CrossBars)
FAIRING: 40" WindShield
MINIMUM BAR SIZE: Small
MEASUREMENTS
M1: 36 "
M2: 5 "
M3: 36 "
M4: 18 "
WEIGHT LIMIT: 100 lbs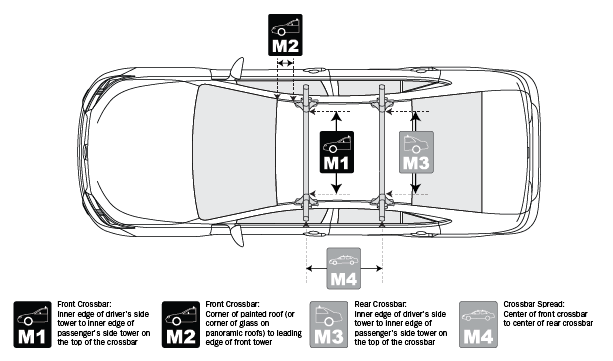 COMPATIBLE PRODUCTS
Bike
RaptorAero
ForkLift
FrontLoader
WheelHouse
HighRoad
HighSpeed
WB200 Fork Mount
WB201 Frame Mount Bicycle Carrier
Snow
FreshTrack 4
FreshTrack 6
FatCat EVO 4, Black
FatCat EVO 6, Black
WB300 Snow Mount
Ski & Snowboard Carrier
NOTES
ID
Note
61
The roof, rubber/chrome door seals and/or trim may deform or be damaged under prolonged contact with any roof rack towers and/or clips. Do not over-tighten or overload the rack. Remove rack when not in use.
63
For a secure fit, pull down door frame seals enough to insert the clip against underside of raingutter, trim, and/or roof.
68
The clip fits tightly between the window and the door frame. Open/close your doors carefully to prevent window contact.
81
All loads extending beyond the length of the roof (except cargo boxes) must be secured to both the front and rear of the vehicle, in addition to the rack.
84
SideWinder (Tandem Bike Mount) will not work due to crossbar spread limitations.
110
If your vehicle is equipped with a sunroof or panoramic glass roof, prior to operation, ensure adequate clearance exists with roof rack and/or accessories installed.
114
Check clips after installing. Grab each clip and try to pull them hard away from your vehicle, twice. If the clip moves after the second pull, tighten the adjustment post. If the clip still moves after the second pull, recheck your measurements between the towers and adjust if necessary. Check clip again.
140
Load/Mount will prevent rear hatch from opening fully. Use caution to prevent damage.
167
DISCONTINUED CLIP: Yakima no longer stocks or accepts orders on the clips for this vehicle. Check with your dealer or online retailer.
180
This fit requires the use of current generation Q Tower (4 Pack PN 8000124 or 2 Pack PN 8000135). Contact your local dealer if you have questions or call Consumer Service at 888-925-4621 from 7am-4pm Pacific Time M-F.
183
Due to unique vehicle characteristics such as wheel base, height, and/or overall proportions, any load carried on the roof may have adverse effects on driving dynamics. Exercise caution when operating this vehicle with any load on the roof.
187
Boa and ForkChop bike mounts will not work on this application due to crossbar spread limitations.
Note point 183 - probably a sound warning.
This system is no longer being made, although there does appear to be a replacement model that might work as well. There seems to be some question as to which clamps are needed. I've sent Yakima an email to see if I can get clarification.