Discussion Starter
·
#1
·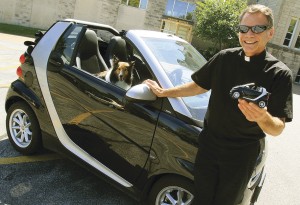 The person behind the wheel of that little car spotted zipping around Davenport of late is the Rev. Rich Adam, who's been in town only two weeks and drives a distinctive black Smart Car convertible.
His loyal canine companion, a Sheltie named Maggie, can be found seated on the passenger side, occasionally poking her long nose out the window of the shiny vehicle that appears hardly larger than a typical office desk.
It is, in fact, 8 feet, 8 inches long and 5 feet, 1 inch wide, according to Adam, who took over as pastor of Sacred Heart Cathedral in Davenport two weeks ago.
"I've been to Rome five times and this is what they drive over there," he said. "I have been so intrigued with them!"
Adam bought his vehicle in October in Omaha, Neb., and has used it exclusively since the spring. His previous church assignment included three parishes and a commute along gravel roads, where the car got 42-45 miles a gallon. He doesn't yet know what mileage it will get in the city.
This convertible has a gasoline-powered engine, although Smart Cars also come in a version with an electric drive train. Adam just fills up at a regular service station, although he hasn't had to do that since arriving in the Quad-Cities.
"I'm still on my first tank of gas here," he said this week.
The vehicle is cost-efficient, with a starting base price of $12,400. The car is manufactured by Germany-based Daimler AG. It also is designed to be environmentally friendly. Those are two of the reasons that interested Adam.
"I'm a green person," supportive of environmental issues, he said. Second, he describes himself as "frugal." Third, Adam views the Smart Car as a replacement for the motorcycle he recently sold. When he drives with the top down, it reminds him of his bike, he said.
Should Adam's vehicle ever be involved in a collision, the Smart Car features plastic panels that can be easily switched in and out. He could even change the color or design of it just by snapping off and replacing the panels for about $1,500.
The car has the usual amenities such as air conditioning and heated seats. It also has much more interior space than it would appear. "Everyone says there is more room in it than they expected," the priest said.
And woe to the individual who tries to pick up and move the very small car. Adam - whose brothers include the Rev. Chuck Adam at St. Ambrose University - said his family gathered recently in Davenport. Some of them actually decided to try picking up and moving his auto, but an alarm went off, so they quit messing with it.
It is a Smart Car, after all.
Source