Discussion Starter
•
#1
•
This idea for using unused switches from my button bank originally came from Limoak and the thread for that article can be found:
http://www.smartcarofamerica.com/forums/f2/451-button-bank-mod-126737/
I give him full credit for the idea and mine is just an embellishment of using more than one switch.
Latching relays like the type we used can be found for under $3 each on Ebay.
1 Channel Latching Relay Module 12V with Touch Bistable Switch
There are 6 buttons total that one would think would be a candidate for modifying. To make any of the buttons usable you must disassemble the button bank and snip off the 4 locating tabs on a button to enable it to be pressed (more on that at the end). But buttons 1 & 6 are used for the heated seat option. If you have that option you're not going to use those buttons for this mod. If you don't have heated seats you don't want to use those 2 buttons even though they are a momentary switch, one push is for low and the next press is for high and the switching is done via transistors so they can't be used for our purpose. Lastly along that note is I went ahead and snipped the tabs from these buttons and when they were reassembled they would not press anyway, so I don't know if non heated seat cars use a different button bank than the heated seat ones or not, but anyway they don't push, just leave 1 & 6 alone.
Now I presume that all the Fortwos use button 5 for the TMPS tire pressure monitor, so that one isn't a candidate either. If you have a factory alarm 4 isn't available for you to use. If you have factory fog lights then 2 isn't usable for you. If you have a rear fog light option as in the U.K then you can't use button 3. If you have a US Pure then you likely have 2,3 and 4 open, and that is the option I was working with.
Now I have DRL's and Fog lights that I have on separate switches that I wanted to graft to the button bank.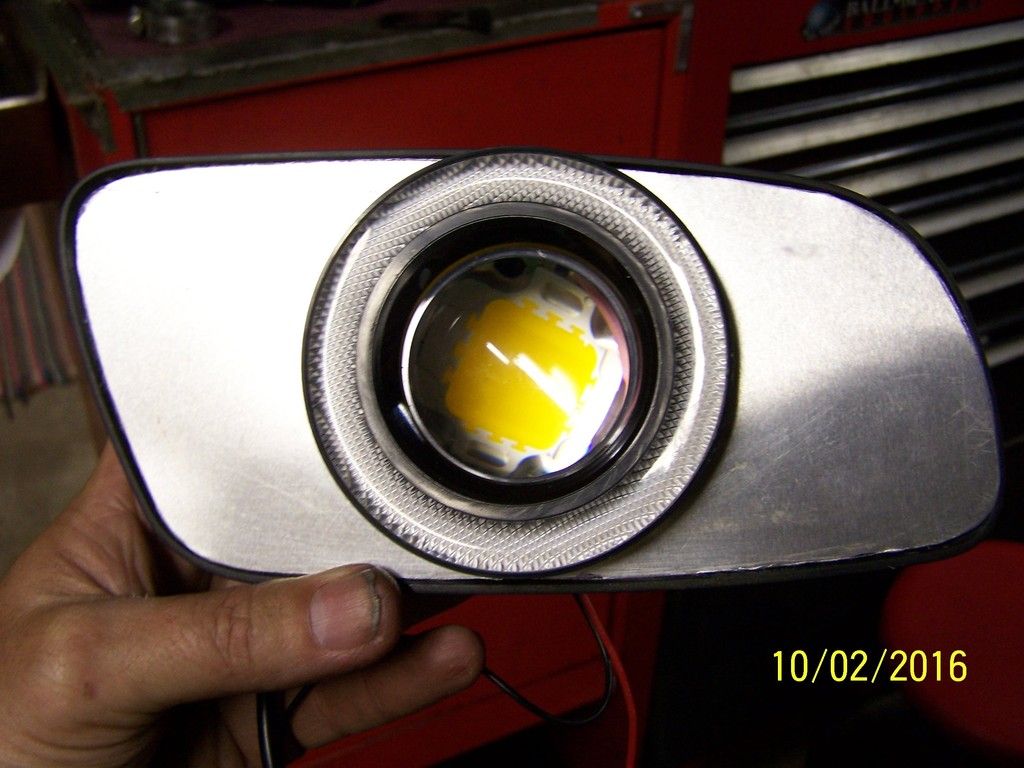 And also I have a 200 watt power inverter that I have on a separate toggle switch to run my subwoofer/satellite sound system, so I likewise wanted a switch from the button bank to be used for that. So I had 3 available button bank switches, so I ordered 3 latch relays.
Now my DRL paddle switch was mounted right behind my turn signal stock, and my fog light rocker switch was mounted under the dash by my 12 volt cigarette lighter plug( if you want to call it that or a power port). Now both of these items was fed from the same switched power source that I picked up from the SAM and I used a 25 amp circuit breaker on that circuit because my other fog lights were halogens and pulled more amperage than the COBB LEDs in my newer fog lights.So I knew I would be powering my whole latch relay system from the same positive wire and ground wire that I fed my fog's and DRL's. I disconnected both switches and snaked the wires back down under the dash to beside the cigarette lighter.
Now the relays are relatively small and I wanted them all mounted together for simplistic wiring. So I had a piece of plastic panduit like I used to use for surface mounting Cat 5 wires and jacks and also electric receptacles on the wall for computer labs. A piece of heavy plastic, lexan, or even a piece of wood paneling would work. I lined up all 3 latch relays and drilled holes in each of the relays 4 corners through the mounting panduit and orienting them all in the same direction I used plastic wire ties and cinched them down in place.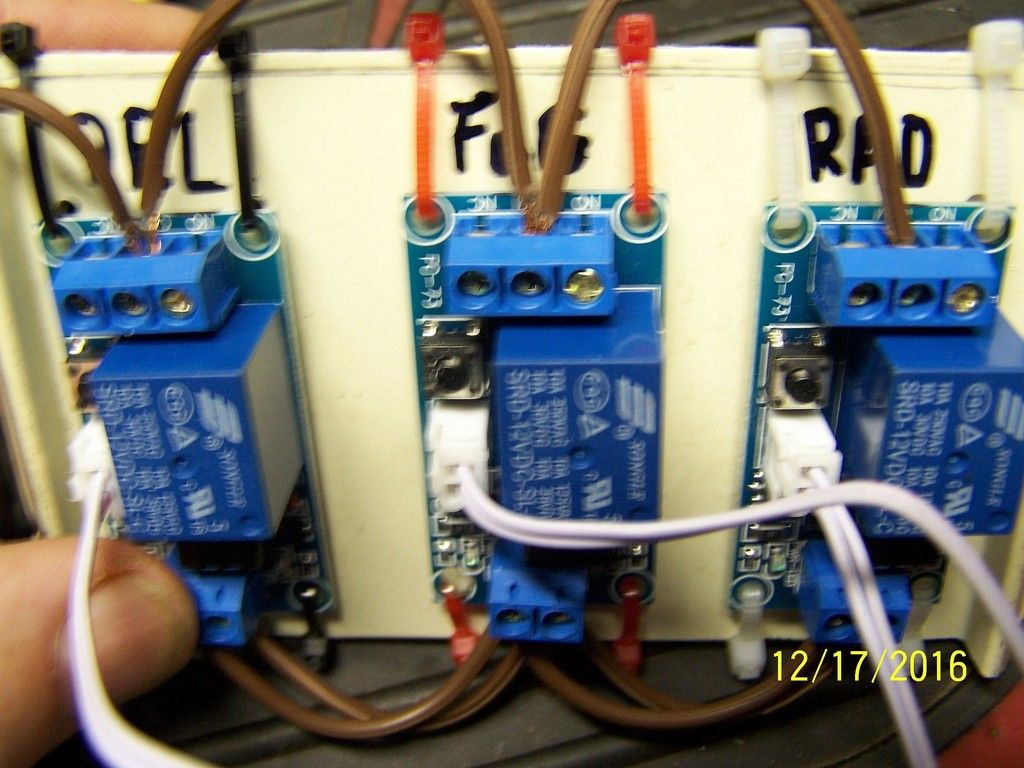 Now with them oriented the same way and the wire ties tightened I used a black sharpie to mark each relay, one for each application,DRL, FOG and RAD for radio/stereo.
Now the side of the relay with 2 connectors is the side that powers the relay to click on and off. Since I was powering all three relays with the same power source I daisy chained the positives together in series and then series the grounds likewise. So now from the 2 connector side you should have the positives together to a single common wire feeding out and the grounds should be together to a single wire feeding out.
Now the other end of the relay has 3 terminals. One says NC for No Contact, so forget that one. The one marked common is the ground for the output to your devices. Since they are all fed from the same sources, daisy chain the grounds (COM) together and connect it with the grounds from the 2 terminal side you just did. Take those ground wires and connect the ground from each device your running power to. In my case it was the ground from the DRL's, the Fogs, and the stereo. So all your grounds are connected together to one wire in essence. Take that ground wire now and connect it to the vehicle ground. There's not alot of places on the Fortwo that are not good ground candidates. So if you look up beside the SAM on the floor (to the left of where your left foot would sit as you are driving), up in that corner there is a ground post connected to the tridion floor and there is several wires connected to it from various places from under the dash. Get you an alligator clip and solder or crimp your combined ground wires you just did to it and clip the alligator clip to that ground post or the connectors coming out from under it.
Now with all the grounds connected and power fed from the SAM (we'll cover that later) to the relays, all that is left is to connect the positive wire from each device your wanting to power to the "on" terminal on the side with 3 sockets. After you do those connections you need to test your relays. Switch on your ignition to power your relays and press the test button on the relay circuit board. You should hear the relay click and the device come on. Press the test button again and the relay should click off and your device be off. If it doesn't work you have either a bad ground or no power to the "2 terminal" side of your relay.
My wiring ended up looking like this: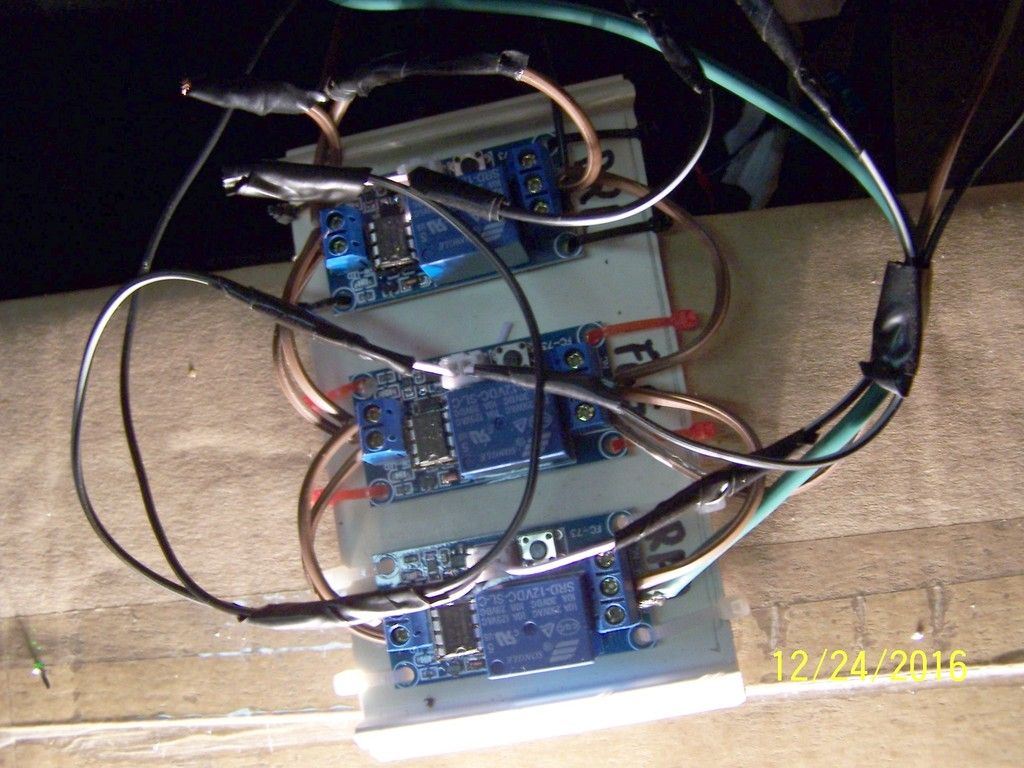 Now it's on to connecting your button bank: Now the 2 tiny white wires and plug, plugs into the socket on your relay board and touching those two white wires together is the same as pressing the black test button. Now here is where I messed up. Through looking at the posted diagrams on Evilution and what I found on the internet the button bank merely grounds out a wire when you press it. So I thought what the heck if it just grounds when you press a button I'll just ground one of each relays white trigger wires and I'll only have to run one trigger wire from each relay to the button bank. I was wrong on this. If you do it like that, when ever you turn on one relay, they all kick on. You have to have both trigger wires isolated to the button bank for them to work. The other important thing to note on the button bank is where the pins come out of the circuit board to the wiring connector on the button bank there is a tiny
#1
by terminal 1 and a 9 at the end of that row. Go by those numbers to get the right wire to splice into. I had the drawn picture from Evilution and I ended up confused. Kayne was diagraming a U.K Smart and I found our US Smarts don't have a wire on pin 9 so I got messed up thinking that wire 8 was wire 9 and wired mine wrong the first time. It's easy to mess up. The button bank diagram looked the same to me and I couldn't tell if I was looking at the plug that plugged into the bank or the back of the button bank itself. So be certain which pin is 1 on the circuit board and then orient it to the connector to cut the right wire.
Now this is the diagram from the Evilution site. It is the property of Kane and I hope that he doesn't mind that I posted it here. If it was wrong for me to do so I will gladly remove it.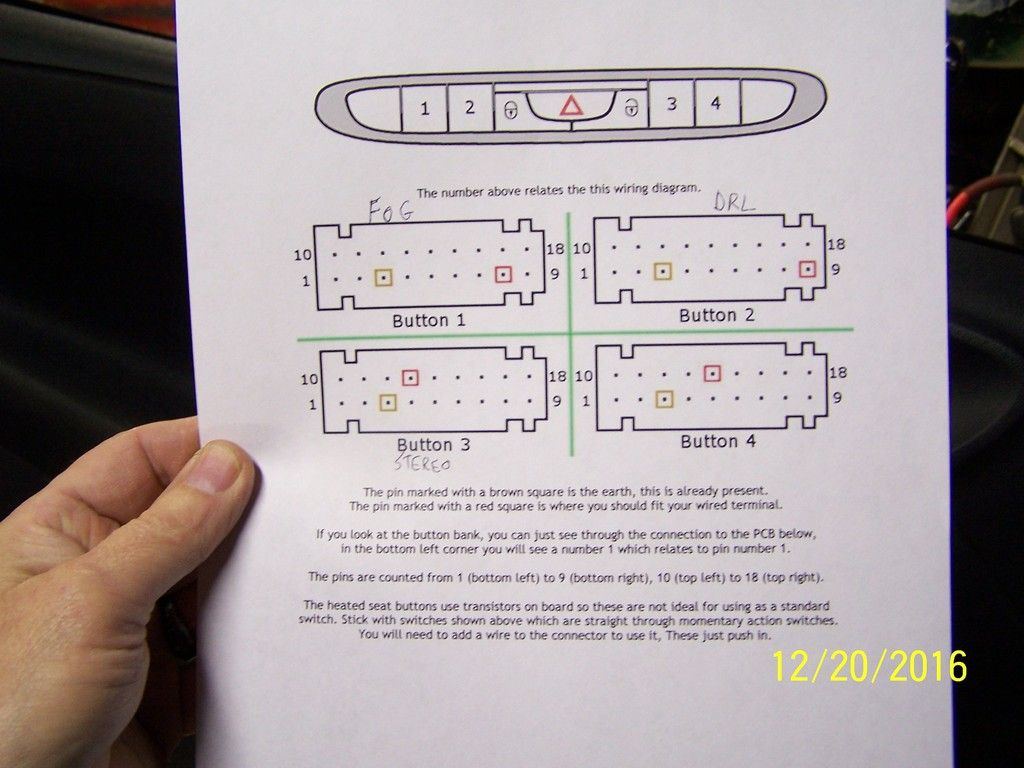 Now remember the digram is as thoughyou were looking at the pins coming from the circuit board. Then orient yourself to see which pin plugs into the connector to designate the wires you need to work with. Now the first pin you want to work with is pin 3 because it is ground. Find that wire coming up to the connector and clip it a couple of inches from the connector. Tape up the end that goes into the wiring harness. Now look at your white trigger wires and you will see tiny red dot markings on one of the wires. Just be sure if you use the left wire on the first relay, use the left one on the other two also. If you use the one with the red dots, be sure the other relay wire matches it and connect all three trigger wires to the switch side of the ground wire you just snipped. Now you should have one trigger wire left on each relay. Pick your designated button bank button and snip the designated wire, tape up the end going back into the Smart wiring harness and connect the button side of the wire to your designated trigger wire.
Now you can test your connnections by powering up your relays and using a small metal object to touch the circuit board carefully where the rubber button would touch and it should trip your relay.
Now look at the back side of your plastic buttons and you will see 4 plastic tabs that need to be snipped off with wire cutters or bent over and broke with needlenose pliers or snipped with toenail clippers.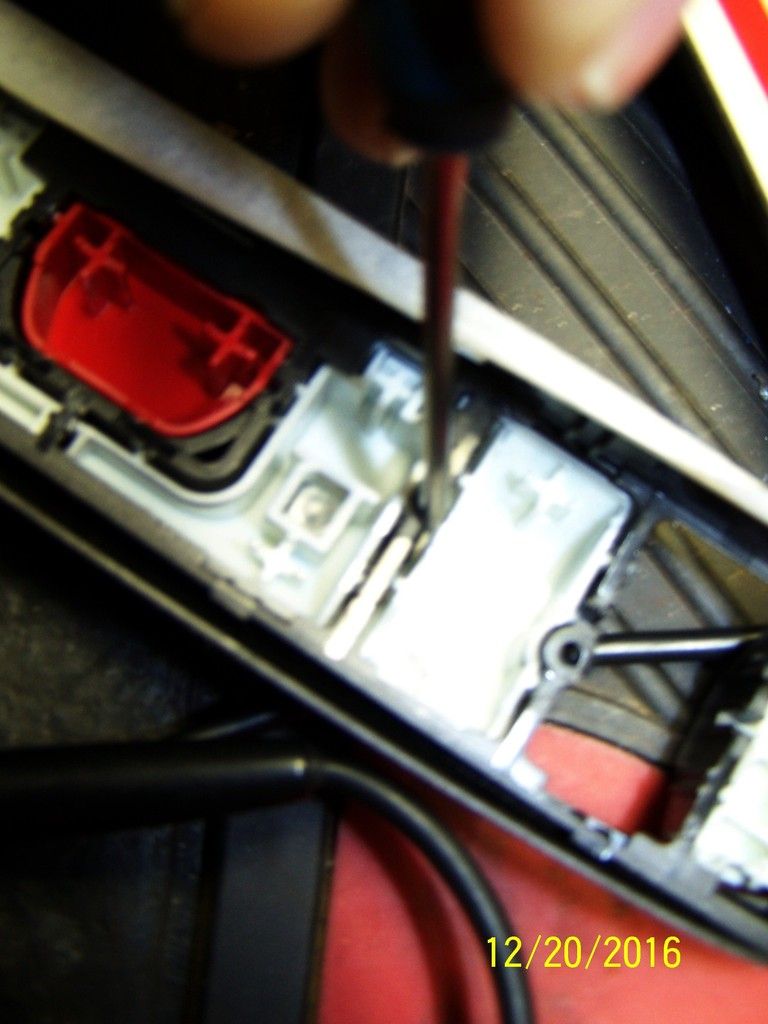 Now use a finger to push the button out the FRONT side of the bank. Now be totally certain that you get the right button back in the same hole. Each button is contoured on the bottom side and also oriented by a knotch on the side as you can see in the pic. Each button will only fit it's original hole. You can force the wrong button in a hole but it will not freely push or rebound correctly. I messed up. I laid my 3 buttons out in order so I could etch an icon on the button and somehow I got them out of order and cut the wrong icon on the wrong button. Now I practiced with a dremel as Limoak had done on other plastic and I was terrible. So I got out my engraver and it did a much finer line. But as I said I cut the wrong icon on the wrong button and the buttons can't be switched around to another slot. So I carefully sanded each button smooth and covered each with black tape, which is the perfect width and texture. Then I used an exacto knife and cut out my icons freehand. A fog light, a halo and a speaker and it turned out pretty good for someone like me with zero artistic ability, and the illiuminating leds shine right through it like factory.
****Now before you start this project there is one more BIG DISCLAIMER and this might be a deal breaker for some.
When Limoak did his buttom for his wind up key motor he used button 3 and there is no LED light behind that button, so if you have only one thing to pipe through the button bank then use that button. Now button 2 has a green LED behind it and button 4 has a red LED behind it and both of these LED's light up ALL THE TIME when you connect up as I have outlined. Now it's only 2 tiny LED's so I don't know at this point how much both of them draw. I would venture to guess maybe 10 to 12 milliamps each. I have not had a chance to tackle this last problem yet due to the holidays. Worst case scenario I will unsolder the LEDs and remove them if it proves to be too much if a drain on the battery. On the other side of it people might think you have a car alarm and not steal your Fortwo. I will do some testing and try to come up with a solution and I will post it here when I do. I'm sorry for this being the longest SCOA post ever, but I hate incomplete instructions and when I try to post I imagine that I am a person who knows nothing about my car except how to turn the key and drive it. Then I try to lay it out thoroughly so a child could do it. So sorry for the book I just wrote. DCO
NEXT IS WHERE TO HIDE YOUR RELAYS AND THE POWER CONNECTION TO THE FUSE BOX (SAM).