Discussion Starter
•
#1
•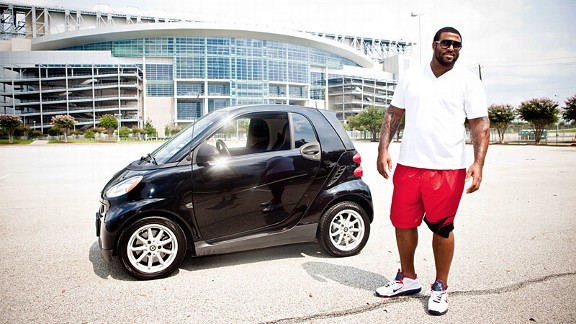 Standing at 6-foot-5 and a "light" 320 pounds, as he puts it, you wouldn't think Houston Texans offensive lineman Duane Brown could fit inside a two-seat smart car sitting in the media parking lot at Texans training camp.
The smart fortwo model stretches 106 inches in width, but the 5-year NFL veteran was convinced he could fit inside.
Brown towers over the car, and if he were to lie down, he would make up 79 percent of the car's length. But he insists he can fit inside -- and do so comfortably.
Brown pushes the seat back as far as the car will allow, then he climbs into what looks like a toy car, both knees jabbing the steering wheel. He's in.
"I feel like I'm in a go-kart," he said before taking a lap around the empty parking lot. "I feel like I should be pedaling with my feet. I can barely turn the wheel."
Inside the car, Brown wipes the sweat from his face. This is the hottest training camp in the NFL, according to weather.com, and Brown doesn't want to hear any complaints from players on other teams.
"I heard the heat index today was 114," he said. "I've lost 9 pounds already today."
An average day of camp for Brown starts at 7:45 a.m. and lasts until about 9 p.m. During that span he averages three showers and changes his shirt and shorts at least three times a day.
"I'm a big guy, I sweat a lot," he says in his defense.
After trying to maneuver the air vents and windows, he finally climbs out of the car.
So does he think he can own one of these little smart cars?
"From what I hear they're pretty safe, but have you seen me?" he says jokingly, looking himself up and down.
Source