Bought my 08' Passion in 2008 and during the winter 2008-2009 when It got cold, and I don't mean real cold, about 34 degrees, my battery wouldn't start and the dealership said, after examining the battery that it wasn't part of the recall, and they really couldn't find anything wrong with it and, if I choose, I'd have to pay for a new battery, was their solution. A battery that doesn't last even a year!, there's something wrong with this picture. I fought with this situation throughout the winter and, when the temperature got warmer, the problem went away until again this year when it got colder, and it wouldn't start again unless it was jumped. I was not about to buy another Smart piece-of-s**t battery. I started looking around which finally ended me up at a sort of nearby, NAPA Parts Store. Every auto parts store I tried, including NAPA, couldn't find a 'lookup' match for the Smartcars, but the friendly sales person @ NAPA was eager to help resolve my situation. I had maximum battery compartment measurements and configuration on hand, as we headed out to battery world. After sorting through several possibilities he asked 'Who makes the Smartcar?'. I told him about Mercedes involvement which prompted him to ask 'does my battery have 'recessed terminals?' YOU BET. He said Mercedes is known for using batteries with this configuration and he pulled out this battery with #1-recessed terminals #2-the positive was on the right #3-all dimensions were o.k. for a good fit. The battery was a bit longer but still within parameters to fit without obstructing the a.c. overflow drain tube.
By being larger overall, this battery's rating was a wopping 600 minimum CCA(thats cold cranking amps), 750 @ 32 degrees. The original was only 350 CCA. WHAT A DIFFERENCE! Just shy of $100 was my total cost.
My following pictures and notes will help you trash that original crappy battery.
The only small modification that needed to be done was to flatten the metal tab on the hold-down-clamp. This is the tab that's normally bent at 90-degrees by the negative post. Just flatten it in a vise or use your own method. I have found no effect resulting from this change.
You'll need a 10mm combination wrench for removable of the hold-down-clamp-bolt and the battery clamps.
NOW THIS IS A MATTER OF PREFERENCE, but I found this to eliminate any operational problems so a complete drop of power would NOT be an issue for the Smart's computer systems, I used a portable-battery-jumper-unit with a double-ended-accessory-plug-cable.
#1-remove the hold-down-clamp-nut
#2-Turn the car to ON (not start), this enables your accessory-jack.
#3-Jumper between this jack and your portable-battery-jumper-unit.
#4-remove the Negative-battery-terminal
#5-remove the RED battery cover
#6-remove the Positive-battery-terminal and wrap it real well with a towel to make sure it doesn't touch anything and I do mean ANYTHING METAL.
#7-remove the right-angled-black-vent-tube from the end of the battery.
#8-now take that OLD CRAPPY BATTERY OUT and put it some place where you can forget what you did with it.(or use it for core $$)
#9-put the NEW battery in and follow instructions in reverse.
#10-put on a happy face and buy yourself dinner for a job well done!
Here's comparision pics of original battery to NEW noting only the length is different......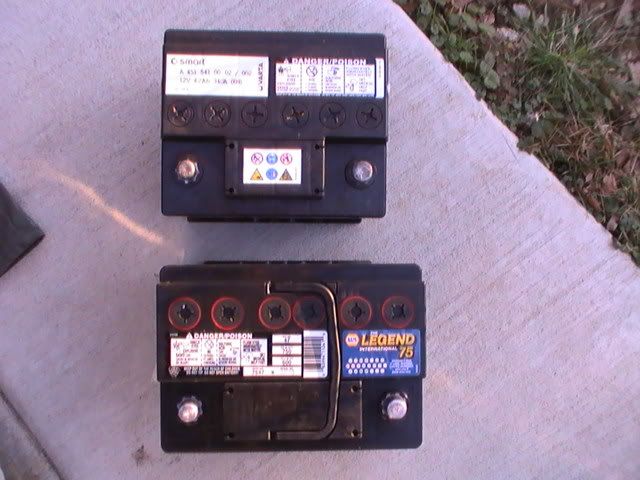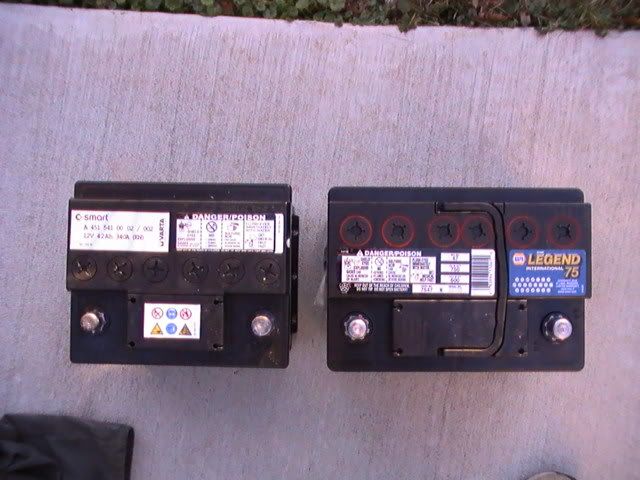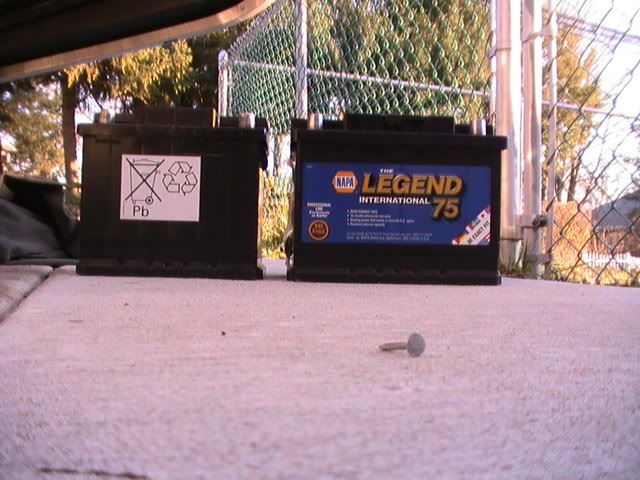 Here is a pic of the top of the New NAPA 7547 battery......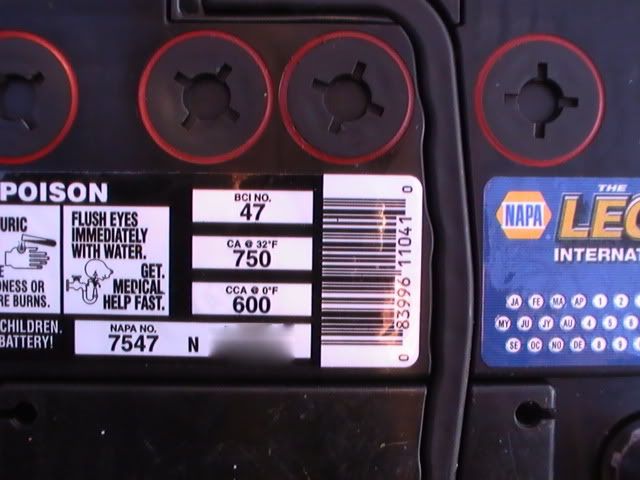 Here's the New battery installed showing the flattened tab......
Here you see that the longer battery does not interfere with the a.c. drain tube......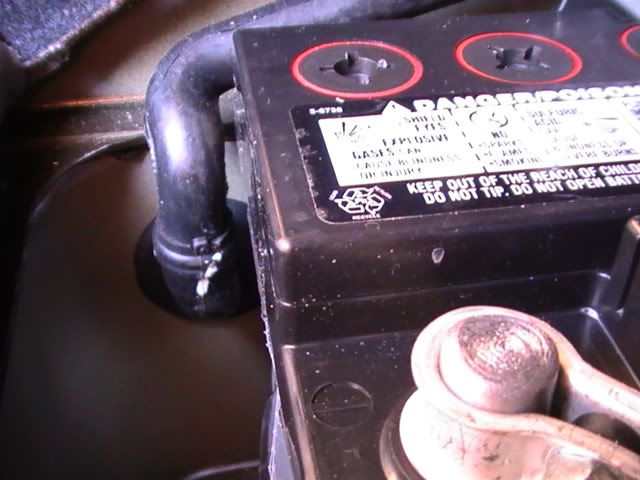 The RED battery cover fits into identical holes in the new battery, hmmmm......
And the vent-hose is now reattached into ANOTHER IDENTICAL location.......