Discussion Starter
•
#1
•
First off, Local Support. --The Local Club and the strong support and enthusiasm from the Club and smart centers. Without local support I can't see an event Like this working as well. From an outside perspective (not in organizer of Nationals) it appeared the originators of the event (thank you folks for getting things started) handed the event over to the Locals who ran with it. They know where to go and have the ability to make the personal contacts locally to smooth over the bumps as they come.
Medium sized Hotel support. -- The Host Hotel was not in some big city where a convention rate and union fees would sink the event. The Hotel was able to adapt to changing conditions. And it appeared their were many from local codes to weather to blown transformers. They worked with the event to keep things rolling. Also thank you to the hotel for not tossing my wife and dog out. While they didn't allow Dogs to stay at the hotel, they didn't toss them out as visitors either. Many have called for an event like this to happen it cities I will not mention here, but I know in some of those cities a hotel unions would charge you $100 every time you needed to plug something in.
Strong Dealer Support -- I said it partially up top, but having not just a smart center, but one with folks who not only work on the cars but enjoy and customize them. If you doubt look at these cars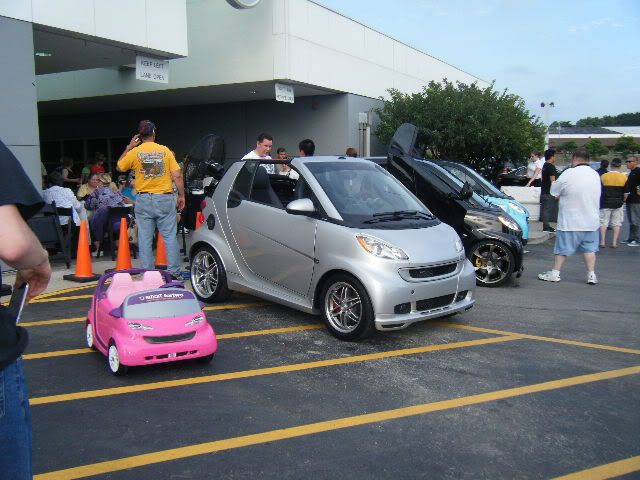 The Silver and black are not on display, they are daily drivers. Many of us know that the folks at our smart center may like the cars, but are not as committed and are not owners. Many are just salesmen selling a product. And it didn't Hurt that the dealership has an employee who made some fabulous BBQ.
Location. While I know it will always be a BIG question of where to have the event, we have seen in other threads that 500 miles is a distance many are willing to travel. SO, when we think of locations I firmly believe you should be able to put a pin on the map and a 500 mile string and get at least a 3/4 circle. If you put it on a coast or Border town you will eliminate the possibility of drivers coming from 1/2 the directions. Ok that is only 1/2 true, if you put it near our north or south border we can still get participants from over the border, but folks can't drive over the Oceans.
The Vendors - They took a BIG Risk committing to this event. When many said they would come the numbers were Quite low. This really is a Chicken or the egg thing. Vendors can't afford to put out the cash to attend if the attendance isn't going to be there, and folks don't want to come if nothing is going to be happening. The vendors did a fabulous job working side by side. It was great to see them doing their installs sharing the same space out of the sun or rain.
Things to DO. - While I really want to go to the Dragon event in September I'm not so sure my other 1/2 does. This event location provided a lot of things to do for those that didn't want to sit in on the tech talks and watch installs all day. There was no problem sending off groups to do some specialized shopping or find separate events for couples. Friday while I was hanging out at the event hotel my wife was off at a Yarn shop in another town for 3 hours. Not something I would want to do but then she didn't want to do what I was doing. While I went to the track With BarnyO and Jet, my wife went to a casino with someone else at the event. I heard some non attendees complain they wouldn't go because there was nothing to do in KC, They were wrong. If you couldn't find something to do you were trying NOT to find something.
Caravans -- Thanks to John for making most of them happen. While it does seem nearly impossible to let everyone know about caravans, it is true that getting there is 1/2 the fun. I was glad I got things rolling on the group coming down from the land without smart centers (Des Moines) I was frustrated in MY inability to organize my own state of WI to join me.
I'm sure ill come up with some more Pluses about this event, but I thought I would get the ball rolling while things are still fresh in the mind.
Please keep this thread on the Positive side by mentioning what worked and Why