Discussion Starter
·
#1
·
I'm going to start a thread here on my experiences with our first electric car and in particular the Smart ForTwo. We just picked up our new car today and I have to admit it was a bit sad to see my Mazda 3 go away. Of course once I got my new Smart the smile came back. And it came back again, again and again. I can't help but just giggle every time I get out of the car and look back at it, it's so small and good looking. Here are some photos.
Lovely weather on the first day home.
Booty!
Top down.
One of the reasons we picked up the car was it's size. Not just for city parking but for parking at home. I have two motorcycles and needed to sell one before winter to be able to fit my old car back in the garage.
That's no longer a problem. I could theoretically fit a third motorcycle in that bay but we'll leave it at two for now.
I drove it for about 26 miles after I got it home to get a feel for it. One observation was that people tend to pull out in front of me more. Here are a list of my immediate likes and dislikes.
Likes -
Turning radius, if I didn't get dizzy so easy I would just keep going in circles for hours.
Style, I love the offbeat style and while the black/green combo wasn't an immediate hit with me it's starting to grow on me.
The cabin is quite roomy, it's almost the first thing I tell everybody because of all the jokes they give me about the size of the car.
Fit and finish is better than I originally thought but not great, some things are done for cost saving and others for weight but it's got a decent feel inside.
Dislikes -
So far my main complaint is the doors. They sound kinda cheap when you close them. Too much shuddering maybe. It's missing that real nice solid sound a good car door makes.
Rides rough on rough roads, yea, I knew that but it got tedious in 25 miles.
So those are my early impressions. From this point I think I will really like the car but I don't know that I will love it.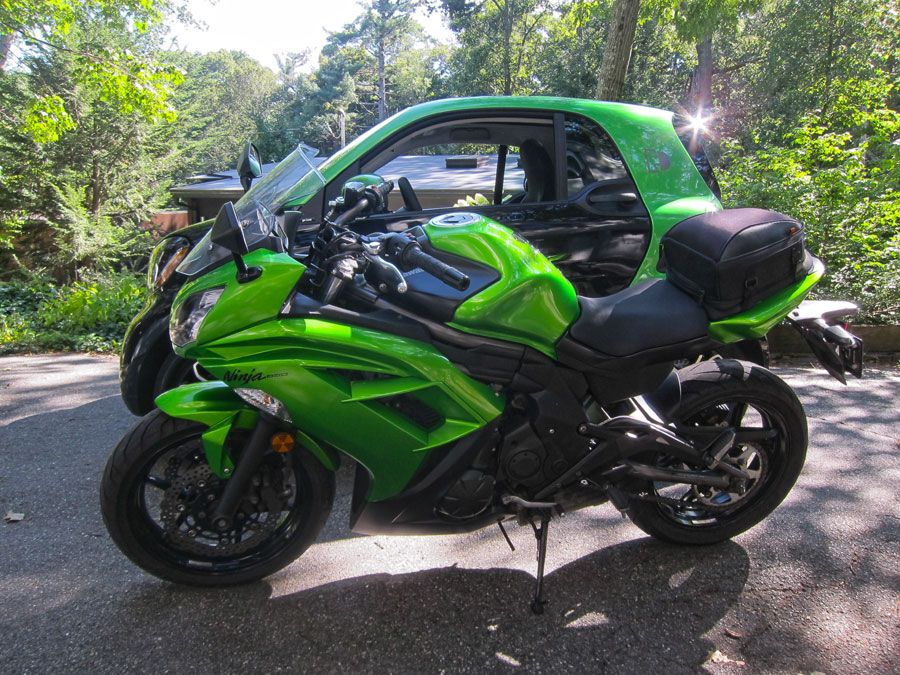 It's about the same length as my Ninja!
I had a real good but interesting experience with the dealer and securing my car. I'm a bit rushed today so I will save that story for another time. I will continue to add my impressions and life with an electric car to this thread. And of course, please join in if you have any insight or stories you wish to share.